Florida-based Dr. Robert Dean Continues Spreading the Gift of Hearing Worldwide With the Starkey Hearing Foundation
Destinations include Haiti, Senegal, Liberia, and Mexico
Tampa, FL (March 6, 2014) – Thousands of people across the world are hearing sounds for the first time, thanks to the Starkey Hearing Foundation. Robert Dean, MD, a Tampa, Florida-based physician and journalist, is personally responsible for fitting nearly one thousand people with their first hearing aids.
Dr. Dean just returned from a trip to Mexico, where he continued his volunteer work for the Foundation. He began traveling with the Starkey Hearing Foundation in November of 2013, spending two weeks in The Philippines during the aftermath of Typhoon Haiyan. He followed that up with trips to Haiti, Senegal, and Liberia. In each location, the Starkey Hearing Foundation provided thousands of people with free hearing aids, making sure they fit each individual ear.
Hope 2 Haiti director Scott Bonnell says: "It is because of sponsors like Dr. Robert Dean, here fitting children with their new hearing aids, that hundreds of orphans in remote villages like St. Marc are able to hear for the first time."
Studies confirm that children born with hearing loss become isolated from society, and rarely develop the speech that is so essential for their social and intellectual growth. The Starkey Hearing Foundation is not just committed to helping people achieve that connection to society, but also sheds a light on how to reduce instances of preventable hearing loss. The Foundation shares research into which types of medicines can contribute to deafness, and encourages groups like the Gates Foundation to continue their work bringing vaccines to developing nations, in order to reduce cases of congenital hearing loss.
The Starkey Hearing Foundation was founded in 1984 by William and Tani Austen. They recently made a commitment to the Clinton Global Initiative to distribute one million hearing aids over the next ten years.
Dr. Dean, a physician with a long record of exploring the natural origins of medicine, will share commentaries and videos from his travels in advance of World Health Day. He blogs about his journeys at www.doctorrobertdean.com. You can also follow him online at www.twitter.com/drrobertdean or www.facebook.com/drrobertdean.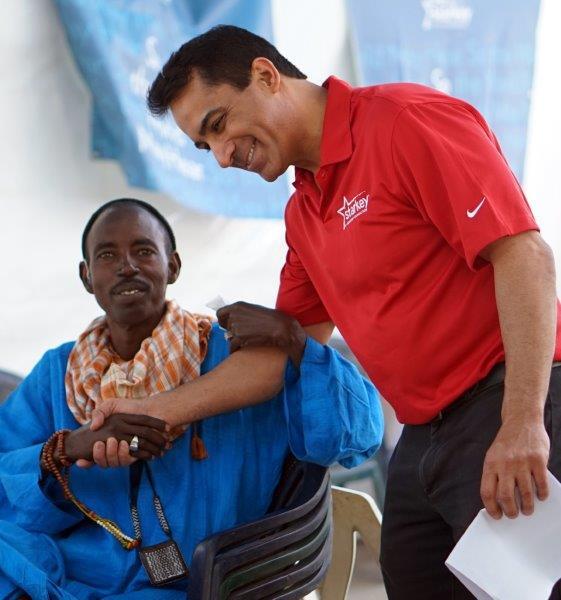 Dr. Dean in Senegal with the Starkey Hearing Foundation