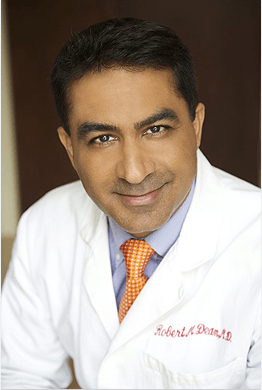 About Robert Mehran Dean, MD
During his 20-plus year medical career, a few things have remained constant for Dr. Robert Dean, MD: his impressive combination of medical knowledge and personal touch, his love of family, and his insatiable curiosity about the origin of medicines.
Dr. Dean's passion for medicines and their origins started early. Growing up, his father often told him about his work as a pharmaceutical researcher. There were trips to the laboratory, rudimentary explanations of how certain drugs worked, and stories about drugs whose power came from exotic locations. The stories were captivating – tales of how lethal venom from a viper or toxic poison from a rainforest frog could be used to save people's lives. Fueled by these images, and a love for science inherited from his father, Dr. Dean knew at an early age that he wanted to become a doctor.
Dr. Dean earned a B.A. in biochemistry at Rutgers and an M.D. specializing in gastroenterology at the Robert Wood Johnson Medical School. During a clinical rotation at Princeton Hospital, he became interested in the Kurdish people who were displaced during the first war in Iraq, and the high number of refugees who were dying of cholera at that time. He took a residency in Internal Medicine at Brown to work under a pioneer in the treatment of cholera, and followed that up with a fellowship at Duke University Hospital.
Soon after finishing his fellowship, Dr. Dean moved to Tampa Bay and started his own practice in internal medicine – combining his love of human interaction with his quest to pursue medical mysteries. He quickly established himself as a doctor whose extensive medical knowledge was matched only by his knack for creating meaningful connections with patients. It was these skills that got him voted One of the Top Doctors in Florida in 2001 by his peers. One year later Dr. Dean decided to refocus his career on patients with severe needs stemming from injuries suffered in traumatic accidents. Since establishing his Medical Injury Center, Dr. Dean has helped hundreds of patients recover from extreme injuries and given numerous talks on spinal injuries at various medical conferences around Florida.
Dr. Dean has also traveled extensively in his pursuit of making people healthier across the globe. He participated in a humanitarian trip to Antigua, treated post-travel illnesses at the Tropical Medical Clinic, and collaborated on research into women with HIV in Mexico City.
More recently, Dr. Dean has brought his knowledge and curiosity about the origins of medicines to the medium of television. As the creator, writer and host of a new TV show, titled Cures for Mankind, Dr. Dean introduces a unique cross between action-adventure and edu-tainment (think Steve Irwin's Crocodile Hunter meets No Reservations with Anthony Bourdain). He takes viewers deep into rainforests to find the little-known and often dangerous plants and animals that are the source of many life-saving drugs. He is also working on his first book, speaking publicly on the natural origins of medicines, and serves as a freelance TV medical correspondent.
Through it all, Dr. Dean brings passion, charisma, and wisdom to bear as he finds new and exciting ways to combine his love for medicine and his search for the true stories behind the cures.